St. John's Blog
Going, going, gone!
Posted by St. John's Highton 17th March, 2015

The demolition team are (amazingly) almost finished their work. The old Hall is now practically removed, as are the kitchen, toilets and foyer.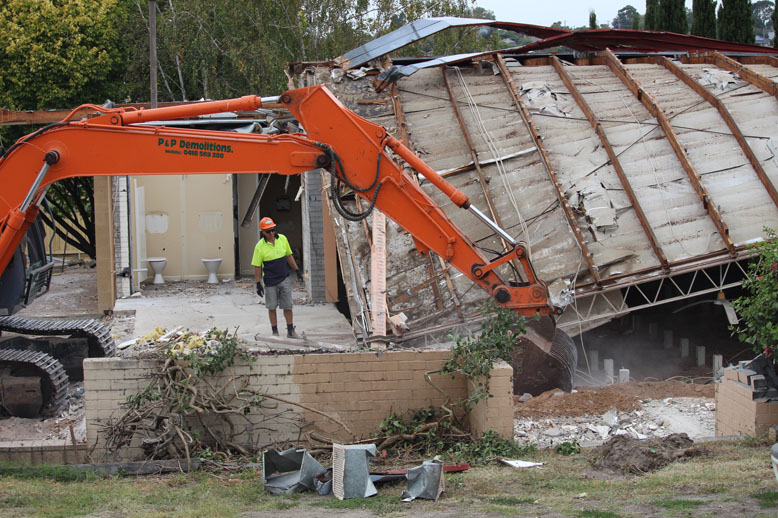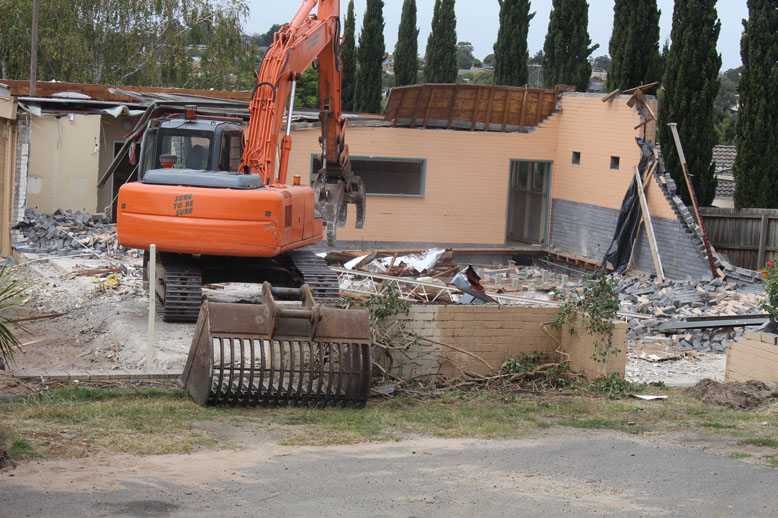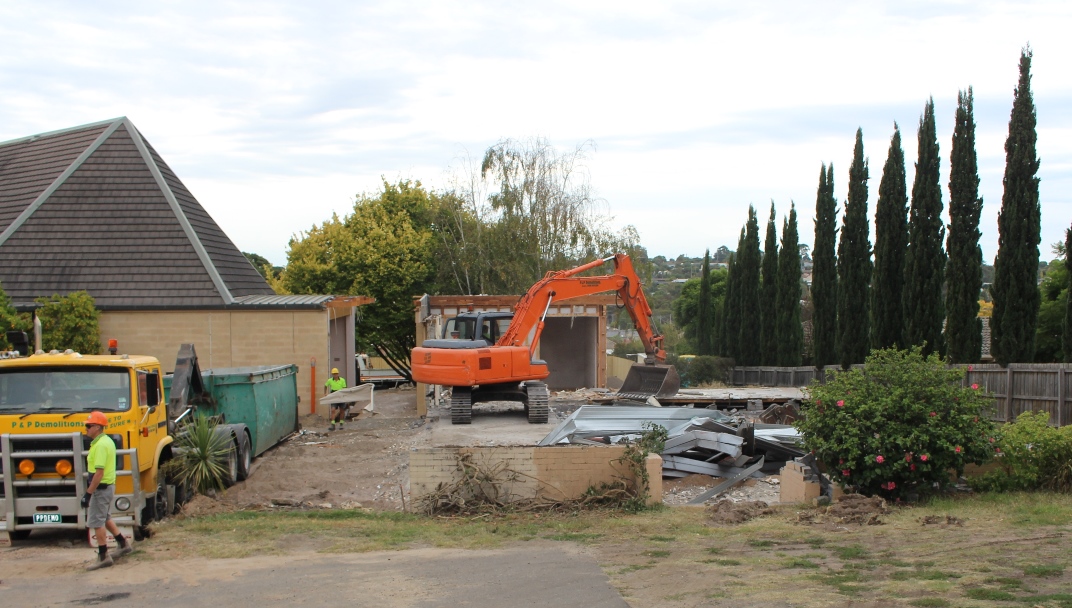 With a little more work to do, removing the concrete footings and remaining rubble, soon the entire site will be cleared and cleaned, ahead of receiving our new buildings which are well advanced.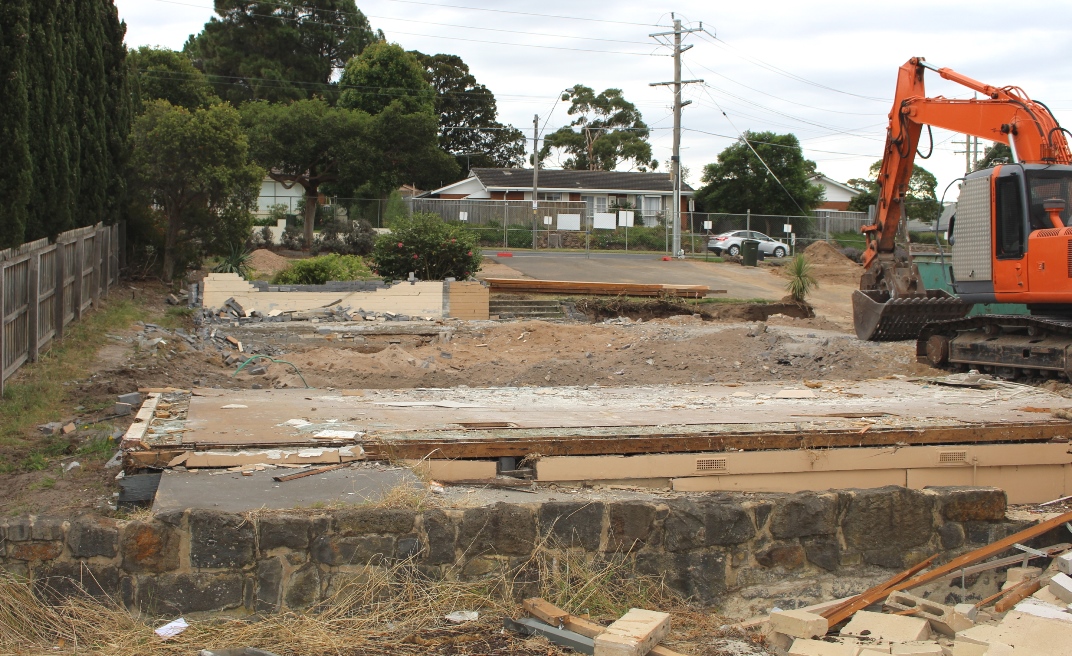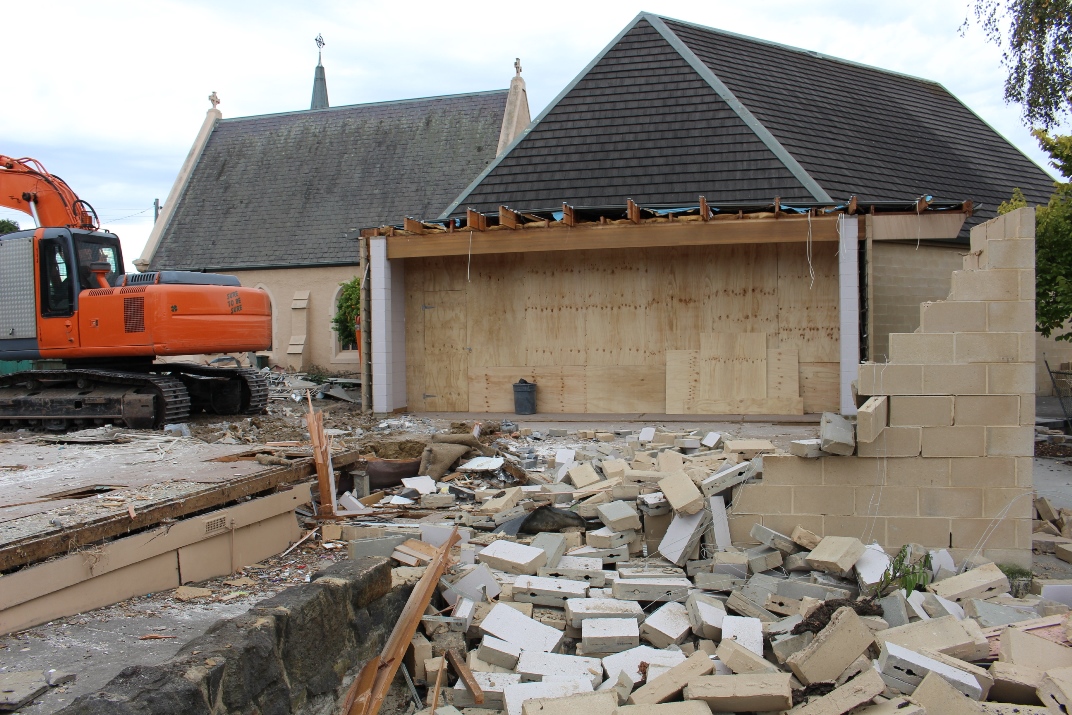 Meanwhile across the way, other contractors (and St. John's willing workers) have taken great strides forward in preparing our new carpark. New drainage works, a fence, and the gravel fill are all in place.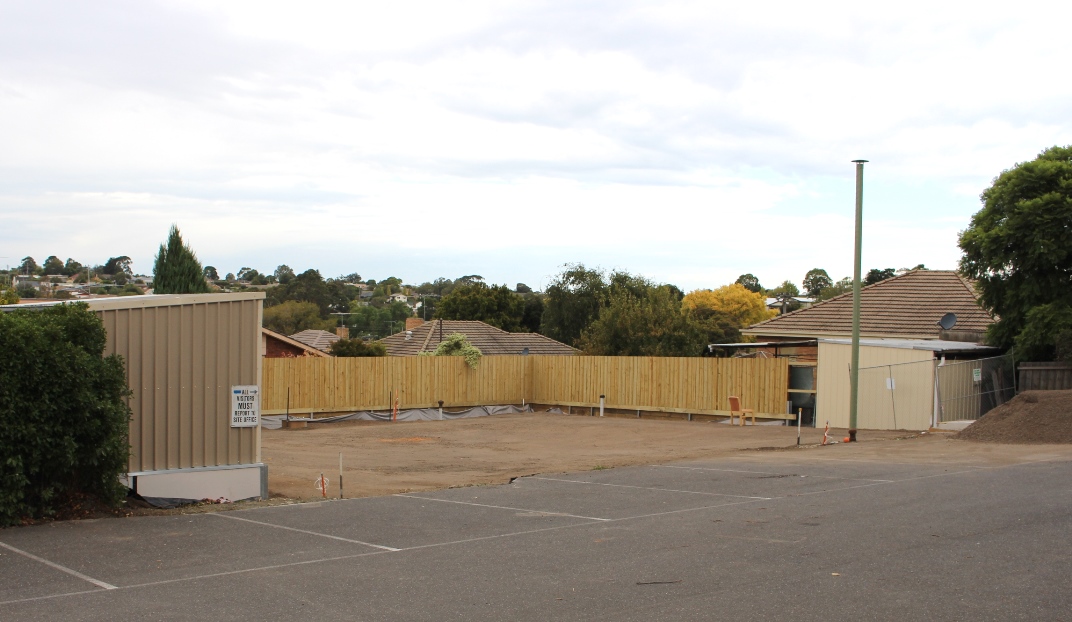 ---
Let the building works begin!
Posted by St. John's Highton 13th March, 2015

The Hall, the Kitchen, Toilets and Foyer are emptied and the excavator is here. Exciting times at St. John's!

Looking through the sunlit (roofless) foyer! This is where our new buildings will join onto the existing church auditorium and old church (which remain intact and out of harm's way).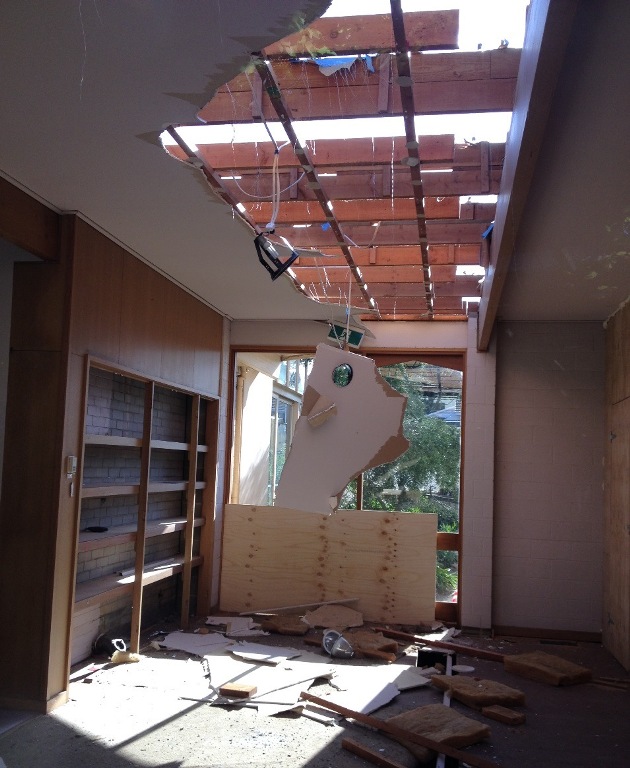 The kitchen has been gutted, including all the valuable underfloor pipes. Farewell useful kitchen!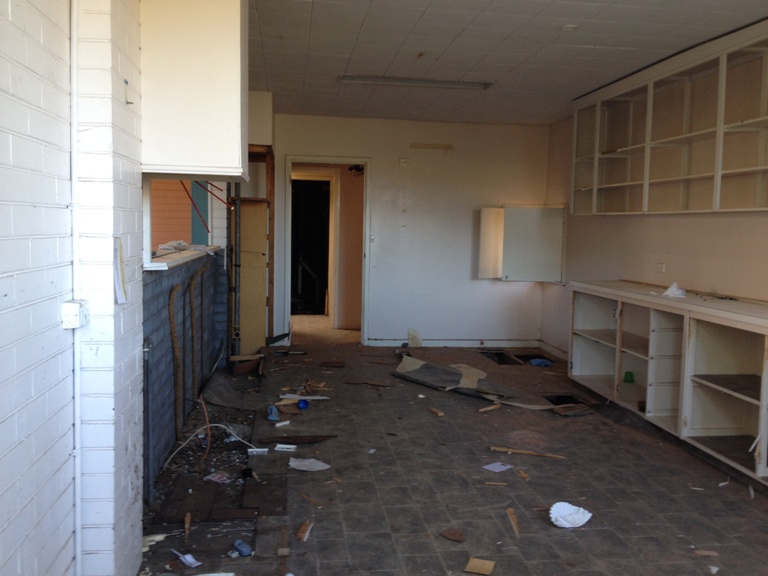 Prior to demolition, the Hall floor was ripped up and hardwood timber removed for recycling. How wonderfully this Hall has served our church since the 1960's! And how good will it be to have a new and even more functional Hall on this site in a couple of months time.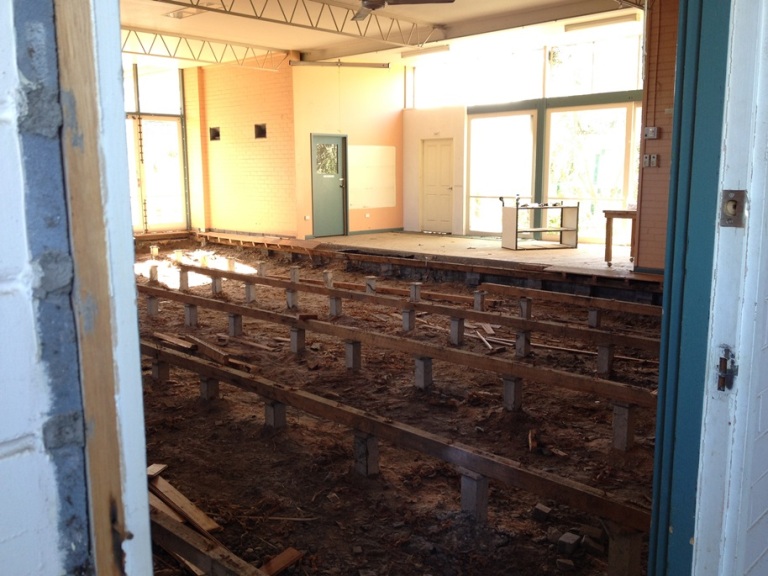 Here comes the excavator...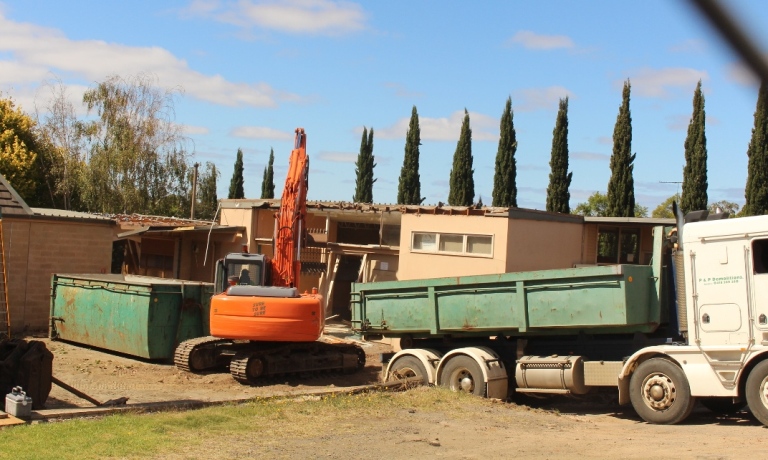 A short little video of the excavator at work:
Demolition13March2015 on Vimeo.
Making short work of the old Toilets...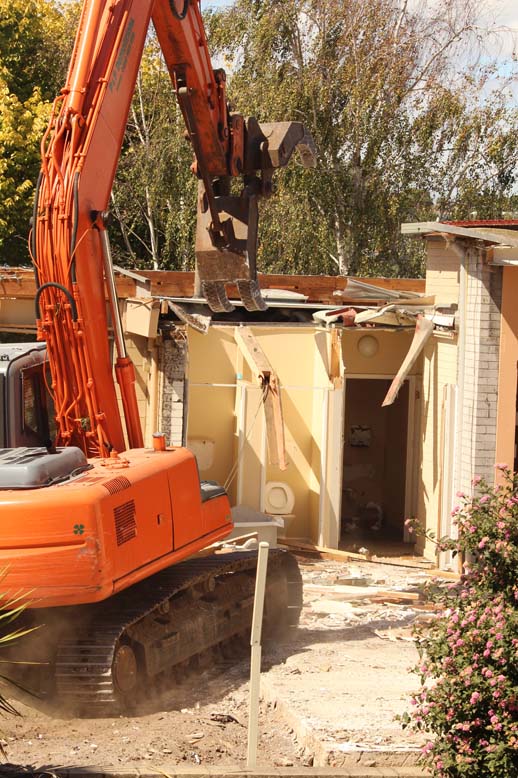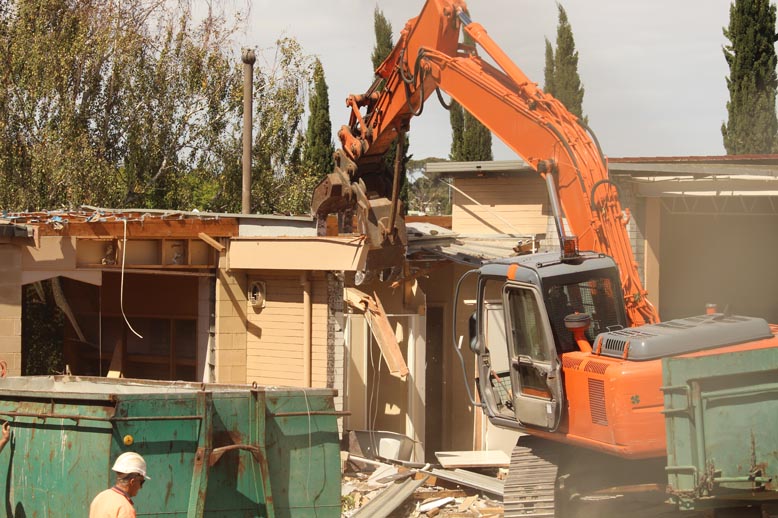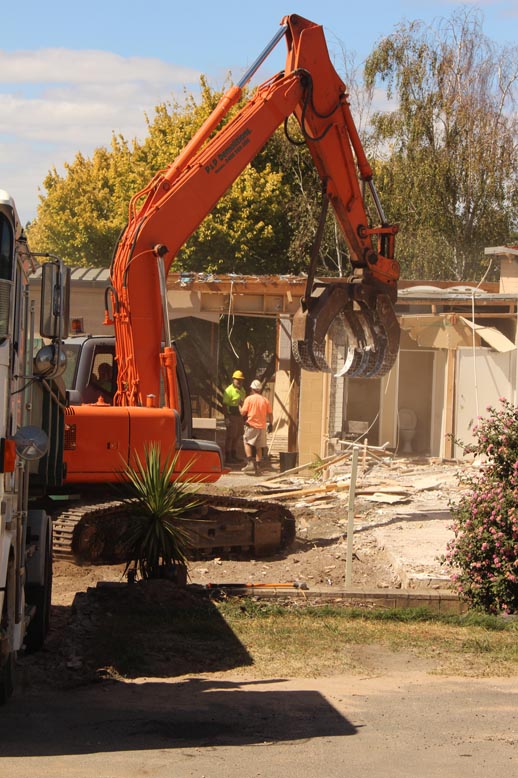 At the end of demolition day one, the old admin office (closest) is entirely gone, as is the area formerly by the windows, and the first half of the toilets. Its now completely open between courtyard and the Roslyn Rd carpark.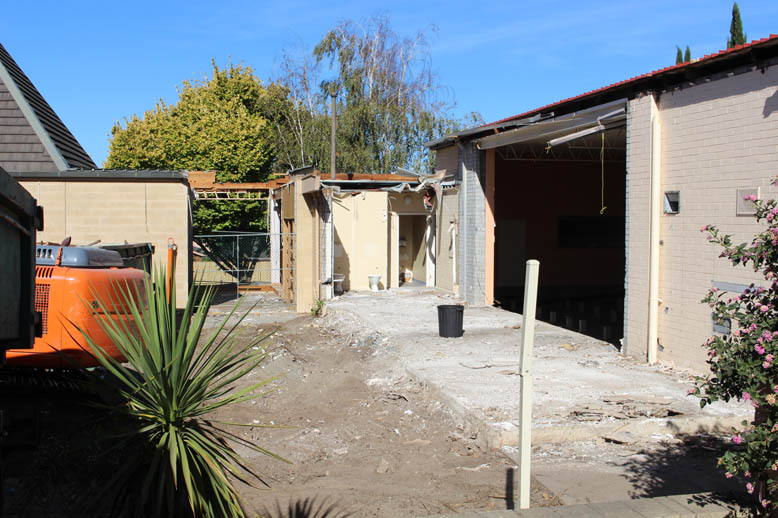 More demolition work to follow next week.
Its amazing to think that in three months time, a new building will stand on this site. The wonders of modern construction (more detail about our Building project here). Praise God for all those who've worked hard to make this project happen, and for those who've donated much to make it all possible: Of the final $190,000 to be raised we have just $130,000 to go.
---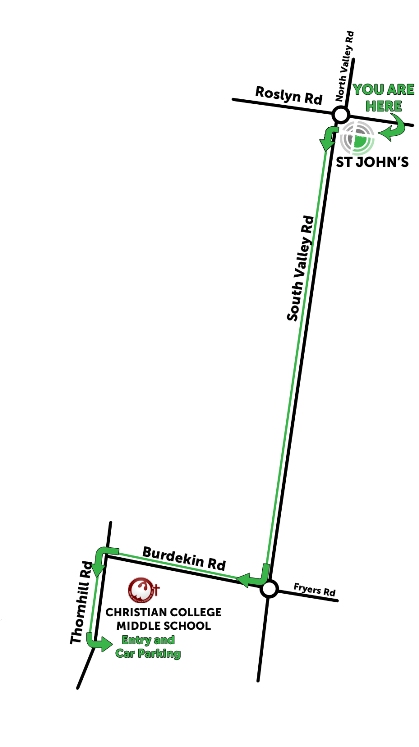 Sundays at Christian College Chapel
Posted by St. John's Highton 7th March, 2015
Beginning this Sunday, 8th March, we're relocating our regular Sunday services just up the road and around the corner. Christian College are very generously hosting us for the time of our building project (March - May).
For our normal 8am, 10am and 5pm meetings come and find us at Christian College.
Here's a map.
If you prefer a video and some written directions, our Relocations page might be helpful.
Of if you'd prefer our short flyer with the directions and the map, its here.
Hope to see you for church as we looking to continue Building people for God at St. John's Highton.
---
Share your faith
Posted by St. John's Highton 6th March, 2015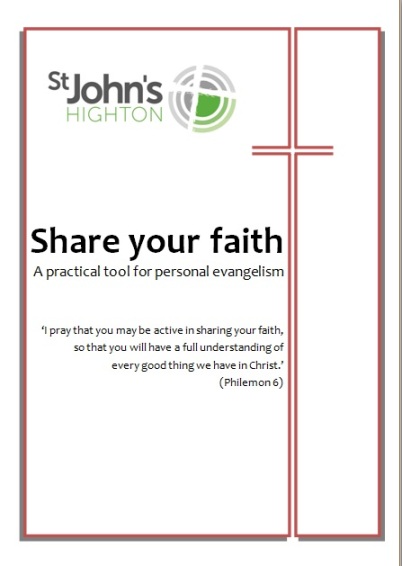 Which year isn't a good year for a church to be working on sharing our faith in Jesus with those we know and love? The apostle Paul encourages Timothy to be declaring the good news 'in season and out of season' (2 Tim 4:2), in other words its always a good time! But that being said, sometimes the concentration which comes from a particular effort helps to re-set and re-energise.
Accordingly, we're setting ourselves to make a particular effort this year, 2015, in sharing our faith in Christ. Whether you call it mission, evangelism, witness, outreach, or more generically 'sharing our faith', we're aiming to do all that we can to re-energise one another to be all the more equipped, ready, will and actually practising sharing the gospel.
To help, we're embarking this week on a three week teaching series called 'Share your faith'. Over the next three Sundays we'll consider three distinct motivations that spur on our witness. Midweek in our Small Groups, we'll be working through a studies booklet (called by the same name), which contain Bible study questions directing us to think above evangelism according to history, to logic and to us. Following each study are a series of practical exercises (such as a mission action plan) that challenge us to put what we're learning into practice.
May the Lord grow us in our ability and willingness to be ready and able to speak up for Jesus!
Share your faith study booklet.
---
Watercooler Witness
Posted by St. John's Highton 5th March, 2015
98% of church members spend 95% of their time outside the church: what a massive mission field to explore and to make the most of! But what is the way we will engage in order to commend Christ? This is the key situation and question Ken Barnes brought to us and went on to address in our recent Watercooler Witness night here at church.
Ken, together with Kara Martin (who was a St. John's member some 20 years ago!) are from the Ridley Melbourne Marketplace Institute, and their aim is encourage Christians like us to share the good news of Christ in the many public settings we find ourselves in (workplace, school gate/canteen, probus club, footy team etc).
So what is the way to engage those yet to trust in Christ?
Having outlined different approaches to engaging Christians have taken, and citing Paul's speech in the Areopagus (Acts 17:16-34), Ken went on to commend an approach which lovingly seeks both to affirm and to challenge the hearer.
You can hear the talk and consider for yourself how you think you might best commend the good news of Christ Jesus. The links for both are below:
WaterCooler Witness Ken Barnes.mp3 (1 hr and 20 mins duration; file size 76Mb)
WaterCooler Witness handout.pdf
We thank God for Ken and Kara's generosity and willingness to join us for the night. We pray that God might use us to more eagerly engage and share our faith in the Lord Jesus.
Postscript: The paper that Ken wrote, upon which this talk is based, is online and available from the Ridley Melbourne Marketplace Institute. The links for the paper are found in the post, Witness at the Water Cooler.
---
Sweet dinner!

Posted by St. John's Highton 18th February, 2015

Last night a good number of us shared in a sweet dinner, Pancake Tuesday. Picture pancakes piled high, topped with ice cream maple syrup and some token fruit pieces to give the impression of a healthy dinner. Great fun for the kids - with some egg throwing competition making it interesting. Some laughs too for the grownups with a little music trivia, picking the classics from the seventies to the noughties.

You might conclude 'lots of fluff!' But we also enjoyed some substance, with Will opening the Bible for us and reminding us that Jesus comes not to spoil, shrink, or put the handbrake on life but to promote real life. And the way Jesus most promotes real life is by providing it through the laying down his own life. '...Jesus showed his glory and his followers believed in him' (Jn 2:11)

Praise God for fun nights together.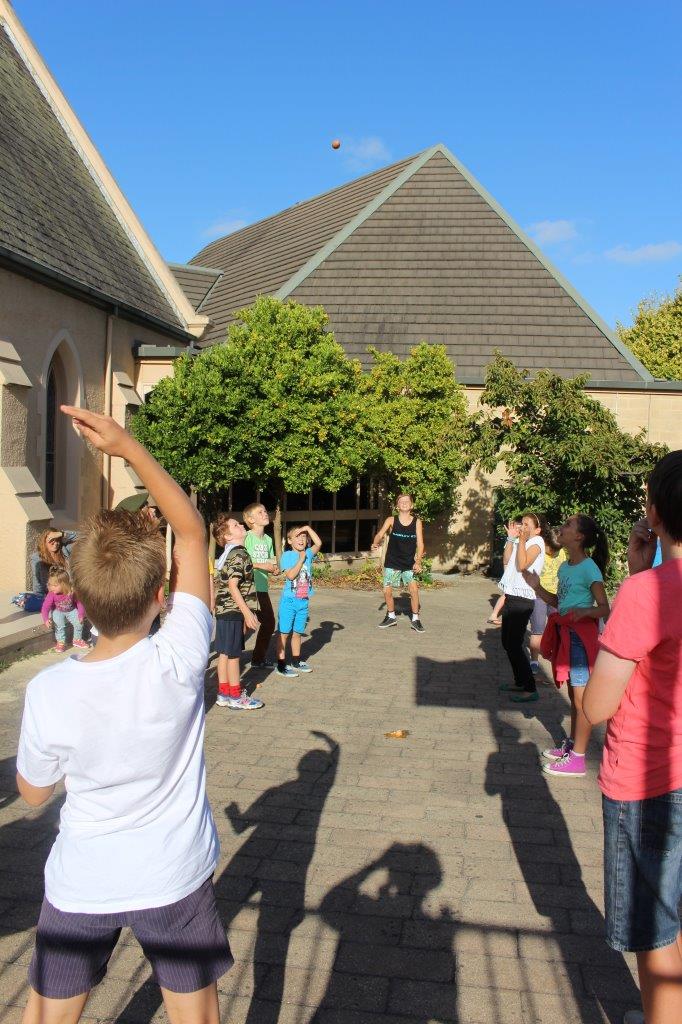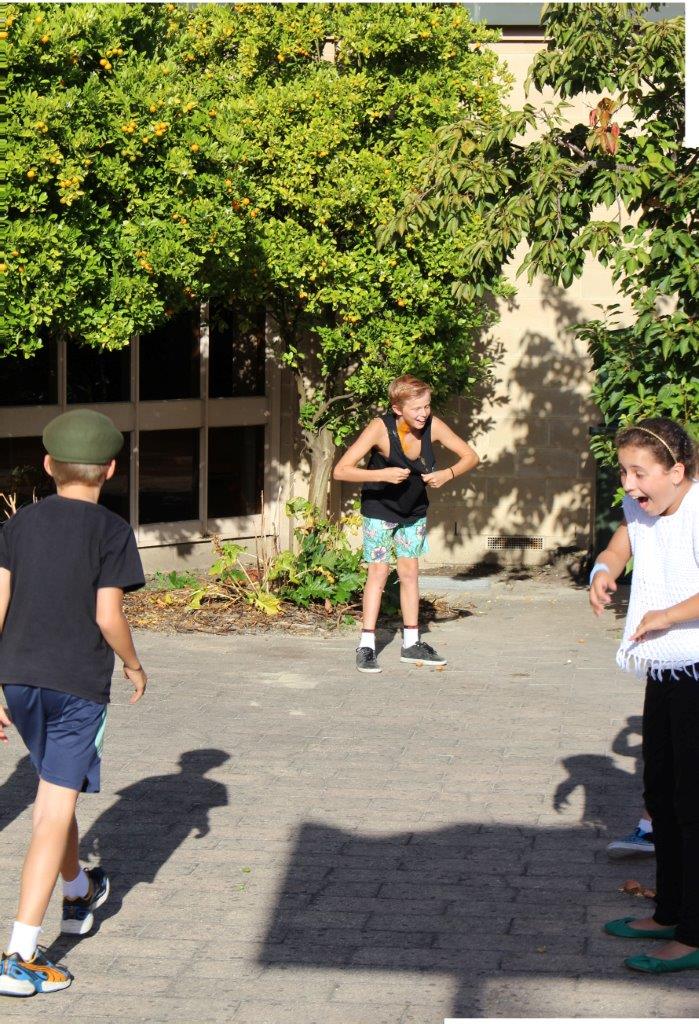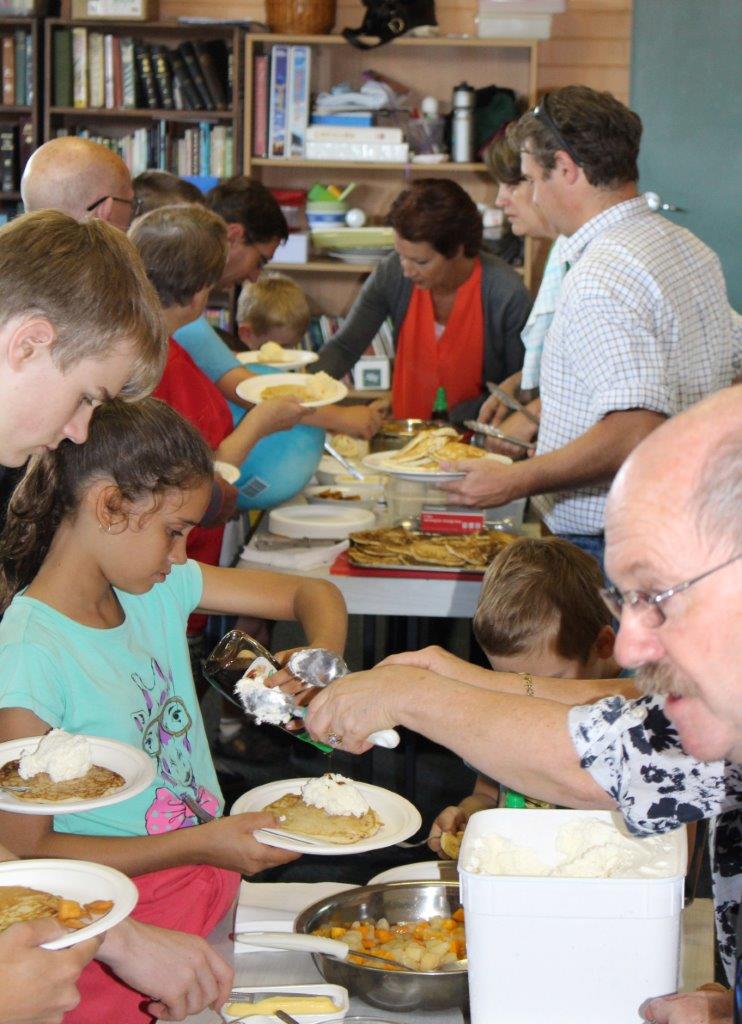 ---
A community celebrating Christ at Christmas

Posted by St. John's Highton 30th December, 2014

With a bumper crowd at Carols in the Park and many from our local community attending a service, this Christmas at St. John's has seen our community coming together to celebrate Christ. Praise God for Christmas! Read on for some of the sights, sounds and highlights.

On a beautiful summer's night at Carols in the Park we were joined by locals, the MicMacs, Shandelle Cooke and our own St. John's band, for a night of singing of the Saviour.
Our Christmas Eve kids service, Jesus Birthday Party, returned with much warmth, joy, fun and dancing. Its always a treat to welcome a number of families returning to Geelong for Christmas as we were able to do again this year. From the Bible, recalling how the angels always reassure those they speak to, "don't be afraid", we were reminded that we don't need to be scared to love and follow Jesus. How important for the little ones of our community to know this love of Jesus.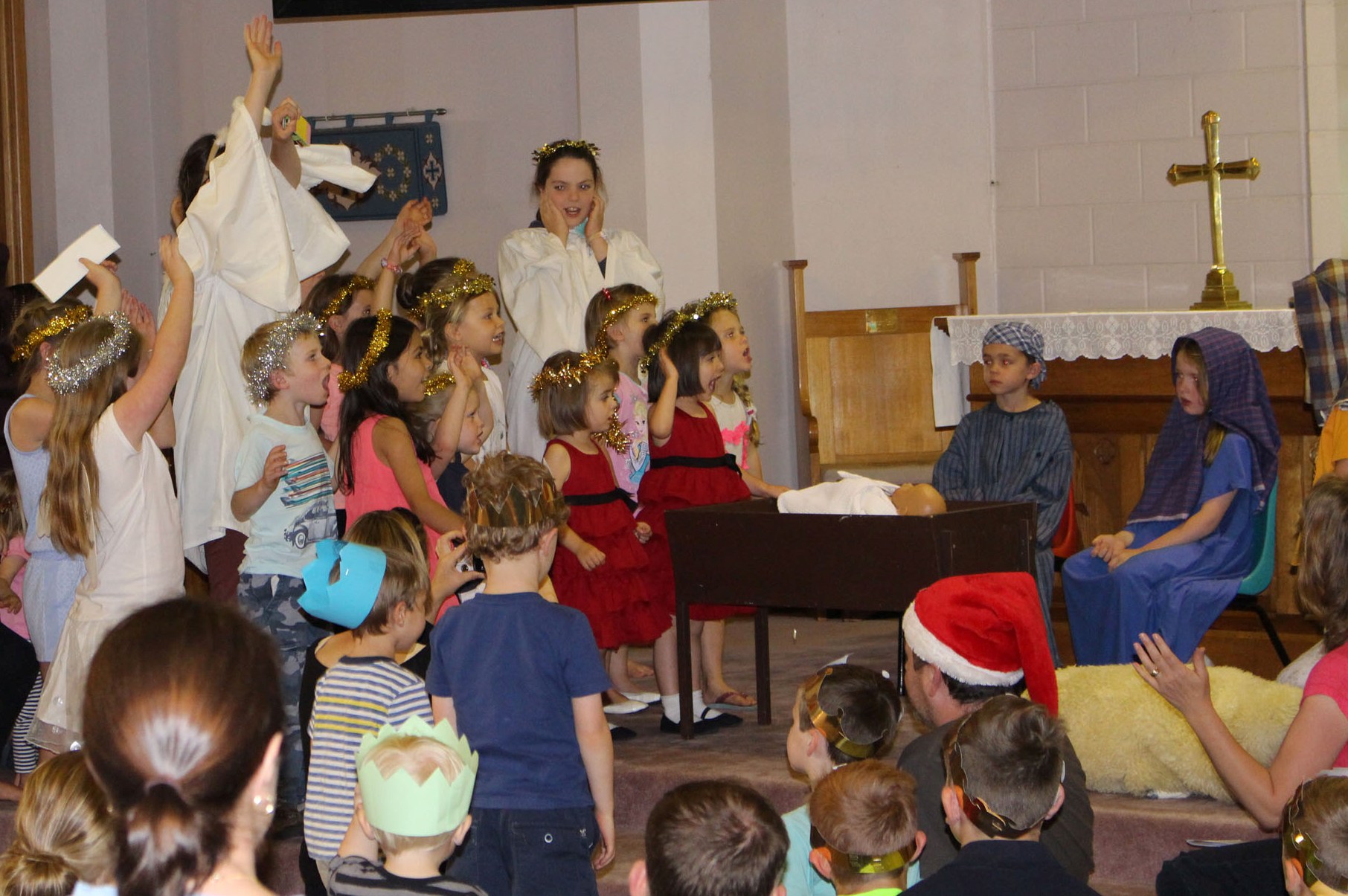 Later in the evening The Big Christmas Gig for high schoolers made its debut appearance. While some were a little nervous with our messy games (including 'put away your pudding'), we all appreciated our fine band - with their own Like-A-Version takes on Jingle Bells, and we took a moment to consider the joy Jesus brings and our response. We're already looking forward to such merriment again in 2015.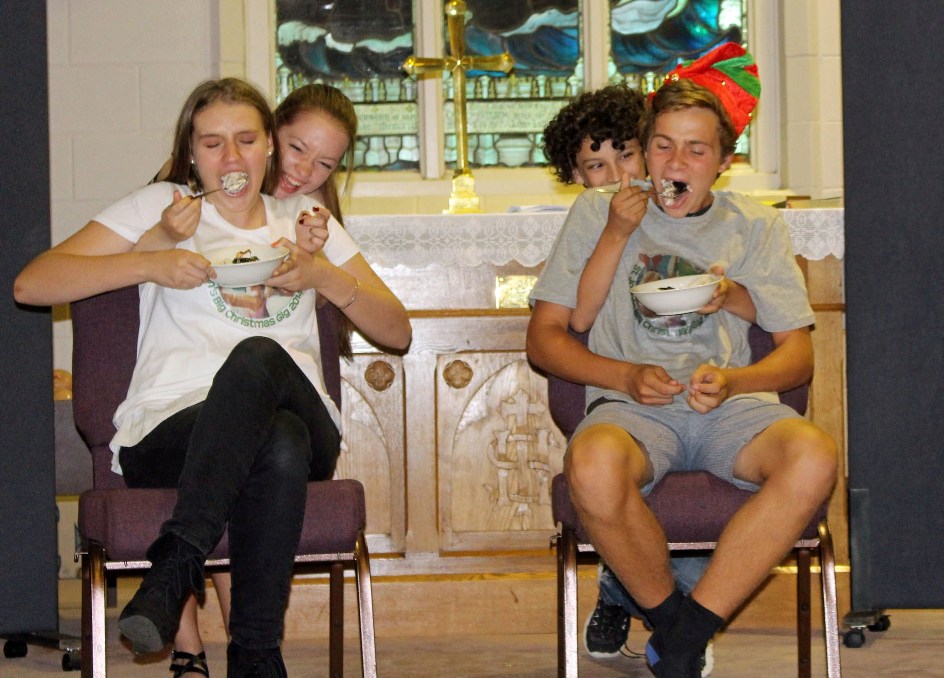 Our Midnight Christmas Eve service had us consider that memorable moments of when the waiting was over: like when a loved one finally comes through the airport doors. The relief, joy, and excitement we know and value also apply to birth of Jesus - when God came to us. Accordingly we were treated to hear a four-piece play the Sovereign Grace song, Prepare Him Room, a song worthy of hearing again - below is the Sovereign Grace version:
Speaking of singing, our Christmas Day family service revealed some community talent: during our opportunity to meet, mingle and swap autographs (for one of the segments), we found some talented Christmas singing soloists. As they stood, they sung to us, in true 'carolling' form, the chorus of O Holy Night. What a treat.
Our Christmas message from the Bible this year was from Matthew ch 1: the truth that 'the time has come!' For all the preparation and the many generations waiting, the birth of Jesus saw the moment that God came in human form to save us. The time of God's salvation is now. Hearing this, we also considered how we, like Mary and Joseph, can find ourselves unprepared to receive Jesus. Hence the question for us all: are we willing and ready to receive Christ this Christmas? In the words of the Sovereign grace song,
'Oh, our hearts, as busy as Bethlehem
Hear Him knock, don't say there's no room in the inn
Through the cradle, cross, and grave
See the love of God displayed
Now He's risen and He reigns
Praise the Name above all names!
Prepare Him room
Prepare Him room
Let the King of glory enter in.'
(Sov Grace Music)
May God give you much joy as you look to love and follow Christ.
---
The Big Christmas Gig
Posted by St. John's Highton 1st December, 2014

This year we're excited to welcome a new Christmas Eve celebration service - especially for those in high school and those on their way to it. Its called the Big Christmas Gig, and promises to be a upbeat and lively way to bring in Christmas.

We're working towards a bit of friendly Christmas competition, lots of music and singing with a touch of Christmas dressups too: wear a Christmas Mo or a Christmas Hat.

We love the joy of Christmas, and we want to share it around. So grab a flyer (click on the image to the right), share our FB post #TheBigChristmasGig and come along. Christmas Eve Dec 24 7pm - 7:45pm.

 

 

 

 

 
---
Next set of classics now available
Posted by St. John's Highton 8th November, 2014

This year we're setting ourselves to read through some of the absolute classic pieces of Christian wisdom from the ages.

Our next set of articles are now ready for reading (available here) and include some great Anglicans in history, including Thomas Cranmer's Preface to the Great Bible as well as John Owen's classic on the reason and result of Christ's death. We're also reading the haunting Bonhoeffer poem Who Am I?. And more from George Whitefield, John Chrysostum, and John Dryden.

Read the articles and then join in the discussion over a simple dinner on Tuesday Nov 18th 7pm for dinner (gold coin donation). Find all the articles here. Happy reading!

 

 
---
Making sense of suffering
Posted by St. John's Highton 3rd November 2014

'The Lord gave and the Lord has taken away; may the name of the Lord be praised'(Job 1:21).

Of all the tensions and troubles we have concerning the presence of evil and our experience of suffering, none is greater than the issue of God's justice: How can God really be good when he oversees and permits evil and suffering? How can God really be in control and not accept some of the blame for evil? And even as we attempt to come to terms with God and evil and suffering more broadly, so we also face the daily details of how trouble takes hold of us.

The book of Job tackles some of the most pressing and perplexing issues of all of life, bringing us face to face with the reality of suffering, of life and death. And it does so not merely in some abstract and philosophical way. More importantly, it does so without simply offering glib answers.

The book of Job addresses the mystery of suffering without having to solve it. It both explores the dynamics and protects the limitations on our understanding, ultimately pointing us to "the sufferings of Christ and the glories that would follow" (1 Peter 1:11).

Come and join us on Sundays for our Job series through November, and read along with our Daily Bible Reading notes, their questions for consideration and suggestions for prayer. DBR notes available here.

 

 
---
 

'...be faithful in prayer'

Posted by St. John's Highton 9th Oct 2014

This week marks the beginning of a three week series on Prayer at St. John's and we hope it proves fruitful for you! Great Christian thinker and author John Calvin refers to prayer as "the chief exercise of faith", both characteristic and essential for the Christian in daily life.

As is our current routine this week just past we've held our term startup Parish prayer gathering. This time we were blessed to have Luke & Jane join us, our new partners in the gospel, We heard of their plans and hopes, their intentions and details and we look forward to hearing and seeing God at work through them as they prepare to travel overseas in January. We were also able to pray for our other mission partners as well as ask God concerning our own ministries. Are you eager to keep on praying for these? Please do!
And if its a help, you can find our booklet with some pointers for your prayers on our Prayer page.
This coming Sunday we're looking forward to the first of three sermons on prayer. Will is this week bringing is 'The WHY of prayer' from Mark 9:2-32. Why not read up on this passage beforehand and come ready to be encouraged to pray.
On Sunday we're also receiving a three week set of Bible studies on Prayer to complement the sermon series.
All this as we look to help each other 'exercise our faith' in Christ Jesus.
'Be joyful in hope, patient in affliction, faithful in prayer.' (Romans 12:12).
---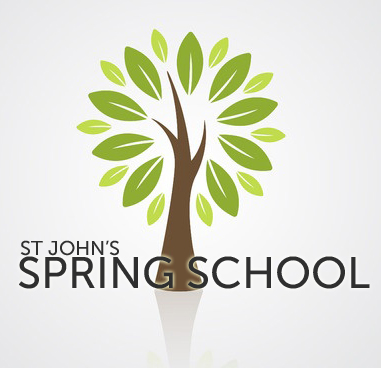 Spring School is underway
Posted by St. John's Highton 4th Sept 2014

Christians in every age have the privilege and challenge of learning how to speak for Christ in a world that is sometimes unaware sometimes disinterested sometimes positively opposed to the Lord Jesus. Answering objections with love and grace, and speaking persuasively to win a hearing for the gospel.

Talk 1 is now available on the Spring School page here. Come along to to our second night next Tuesday 9th Sept, 7:30pm.l - this is apologetics and this is what we are exploring at Spring School 2014. Three nights aimed at giving you a good grounding as well as positive encouragement to go on speaking with love and grace for Christ.

 

 

 

 
---
More than conquerors
Posted by St. John's Highton 12th August, 2014
This well-known and often-cited phrase comes at the conclusion of one of the grandest chapters of arguably Paul's grandest epistle. And what an astonishing point to reach! "No, in all these things we are more than conquerors." (Romans 8:37)
For a statement that so many refer to so readily, when you pause to consider it, it can seem difficult to affirm with real conviction. Us, at little old St. John's, with all our issues and our idiosyncrasies, with all our faults and failings,.. "more than conquerors"! Really?
I'm sure that those who know Christ and love the Scriptures will want to concur with the inspired word of God. But take a moment to imagine how others/outsiders would hear such a statement. Do you not suffer set-backs and disappointments in life like the rest of us? Are you impervious to famine, nakedness, danger, the sword? Does your relationship with God through Christ protect you from disease, decay and death? Who do you think you are? And in what sense can you claim to be 'more than conquerors'? (By the same token, I wonder what the people of Paul's day would have made of such a statement on his lips? I don't know that he would have been singled out by many as some great winner in the game of life.)
Certainly, this is not a statement to treat in some glib fashion - as the context demands. When the apostle says, "in all these things" he is referring to the bitterest pains of the curse under which the whole of creation (& not least, we who have the firstfruits of the Spirit) groans (vv.22 & 23). Indeed, immediately prior to this triumphant statement we read this quotation from the Psalms: "For your sake we face death all day long". How can one jump from such a sober acknowledgement of our dire predicament to such an amazingly exultant declaration of our exceeding conquest?
And the answer lies in the content of our victory - we know the love of God for us in Christ Jesus. To be assured that we are loved by God is life's greatest conquest.
Back in chapter 5, the apostle Paul has already confidently proclaimed our ability to rejoice even in sufferings (compare 8:17) - because, ultimately, "God has poured out his love into our hearts by the Holy Spirit, whom he has given us" (5:5). That's why there is such an emphasis upon the ministry of the Spirit in chapter 8 - he helps us in our weakness (v.26). Chapter 8 is clear on our weakness within, and on our threats without, but the same Spirit who raised Jesus from the dead brings to us life and peace (v.6 & 11), testifies that we are God's children (v.14 & 16), and intercedes for us with groans that words cannot express (v.26 & 27).
Without this convicting, confirming ministry of God's Spirit, we could not know and appreciate God's love for us. We could not help but doubt it, when we struggle and sin, when we suffer, when the world seems all arrayed against us, when we face the reality of death.
The remarkable victory that Romans 8 proclaims is that even in the face of our own sinful nature and weakness, as well as a creation that has itself been subjected to frustration where various threats and dangers plague us - still by the presence and power of God's Spirit we can know that we are genuinely, deeply loved by God. Hallelujah!
That's why the statement reads: "No, in all these things we are more than conquerors through him who loved us".
That's why as the apostle continues to explain and elaborate what he means he says: "For I am convinced that neither death nor life, neither angels nor demons, neither the present nor the future, nor any powers, neither height nor depth, nor anything else in all creation, will be able to separate us from the love of God that is in Christ Jesus our Lord."
It's why the last of the five unanswerable questions he poses in vv.31-36 (which occasions our statement) is: "Who shall separate us from the love of Christ" (v.35)?
We are more than conquerors - in all things - because God has brought us to know his ardent love for us in Christ Jesus.
His love for us transcends us and our problems: it cannot be undone, not by our weakness, not by our circumstances, not by our enemies. And his love transforms us: it enables us to face up to our weakness, our circumstances, and even our enemies. We are more than conquerors through him who loved us. The ultimate experience of hyper-success in all of life is to know that we are loved by God our Father - to know that nothing in all the world can undo this, and to face all of life (and even death!) knowing this.
May the grace of our Lord Jesus Christ and the love of God and the fellowship of the Holy Spirit be with you all.
Will
---
Next set of classics now available
Posted by St. John's Highton 15th July, 2014

This year we're setting ourselves to read through some of the absolute classic pieces of Christian wisdom from the ages.

Our next set of articles are now ready for reading (available here) and include foundational writings on why Jesus had to become man to save us, as well as some poetry (T.S.Eliot and George Herbert) and a milestone sermon preached by Jonathan Edwards.

Read the articles and then join in the discussion over a simple dinner on Wed Aug 27th. Find all the articles here. Happy reading!

 

 

 
---
Photos from Kids Club
Posted by St. John's Highton 15th July, 2014
What an awesome week we had together at Kids Club in the recent holidays. It truly was Circus Berserkus! Magic men pulling rabbits out of hats, humble acrobats putting in star performances, and most of all 83 enthusiastically active kids all taking part in singing, games, activities, craft, and learning together.
Praise God for each child, and for our wonderful team of leaders. We've now got a sample of some of sights and sounds of Kids Club online.
Head to our Kids Club page here.
---
Christian D.N.A Workshop: The place of Tradition
Posted by St. John's Highton 17th June, 2014
As part of our ONE goals this year (ONE in like-mindedness, ONE in Community, ONE in Witness), we as a church began a series of workshops called 'Christian DNA' aimed to provide a forum for learning and discussing our core convictions - what it means to hold to a reformed, evangelical, protestant faith. Last week on the 10th June I was fortunate enough to attend the latest forum which was on the place of tradition in forming our pedagogy of Christian faith.
As my wife and I took our seats Will delved right into the meat of things as we explored by what sources do we get our information and evidence that then allow us to come to a theological conviction. These convictions range from what type of music we play during services (or any music at all), what clothes we ought to wear, the role of women in ministry and anything else you could imagine! Will helped us narrow down these sources of our evidence to 4 places. These places are from Scripture, from tradition, from reason and from experience.
I am a historical romantic. I can easily daydream myself side by side with Luther as he nailed his 95 thesis to the Wittenberg door, triumphantly calling out 'Sola Scriptura' as we challenged the might of the Roman Catholic church together. I can see myself working hand in hand with Calvin defending the new protestant faith in Geneva from those who would give authority to reason over scripture. After all, these champions (and many more) of the protestant faith set the groundwork of my own evangelical, reformed protestant theology. Of course in my dreams I successfully pursuaded Luther to take a more reformed stance and saved Cranmer from a martyrs death. With these great hero's of faith I can proudly say that Scripture is the source of all my theological convictions. But is it?
It was extremely challenging to look within myself and question by which authority I attest my faith convictions and practices by. I am forced to admit that tradition, logic and experience play important roles in my theology and I need to educate myself on my sources of beliefs unless I mistakingly hold to a faith practice based on tradition to the exclusion of Scripture. While tradition is not necessarily a bad place to draw authority from, Scripture is so much better. After this particualr DNA workshop I found myself honestly contemplating my thoughts on Women in Ministry, Marriage and the role of the church, and whether my opinions and beliefs have its basis on Scripture first, or whether my stance is a reflection on modern cultural morality and experiences.
I am encouraged greatly to be involved in a church that is committed to placing the authority of scripture as its foundation. We are a church that cherishes its Anglican faith, we respect and honour the traditions that allow us to love and serve God to the best of our abilities. Yet we are also prepared to challenge those traditions, when their meaning might get diluted, or when tradition may be tempted to replace scripture. I am encouraged to see us as a church family commit ourselves to like-mindedness on the thing that matters the most, the word of God, which was made flesh in his son, Jesus Christ.
If you missed this DNA, or the 3 before it, there is no need to be upset! you can find a recording the workshops right here.
Jono Whitfield
---
Kids Club places filling fast
Posted by St. John's Highton 2nd June, 2014
Its definitely shaping as a 'Circus Berserkus' with more than half of our places for Kids Club filled, and the prospect of the entire program being fully subscribed by about the 10th of June. Amazing! Praise God for such interest!
Its not too late to register interest for your children. Fill out the registration form on our Kids Club page here.
We'd be very glad for your prayers: that we'll love the children well, engage their interest in Jesus, and have loads of fun together.
---
New logo for our church

Posted by St. John's Highton 16th May, 2014
As part of our website refresh, we're also taking the opportunity to refresh our church logo. With a group of talented graphic designers within our church community we had a wealth of possible designs leading to the choice of the green and grey cross at the roundabout.
Our new logo aims to capture something of both who where and what we're about at St. John's.
Locally we are known as the 'church by the roundabout', hence the concentric circles around one central circle.
Spiritually, we are a church which seeks to keep the Cross of Christ at the centre of our thinking, our ministry and our practice: we are a people saved through the cross, and because of this we seek to joyfully make Christ and his saving work known - so the cross extends out beyond the logo, just as we seek to extend Christ's grace to all.
Practically, we are found on the south-east corner of the Roslyn Rd - South Valley Rd intersection. So with the angle of the cross taken from the angle of Roslyn Rd relative to due north, you'll find that the bottom right hand corner of our logo (the green highlight) is where you'll find our church gathering to love and serve Jesus.
---
Christian DNA workshop: challenging and encouraging
Posted by St. John's Highton 16th May, 2014
The series of workshops begun this year as 'Christian DNA' aim to provide a forum for learning and discussing our core convictions - what it means to hold to a reformed, evangelical, protestant faith. The great thing about these workshops is that we can tackle a topic in more depth, in an accessible and engaging forum thanks to Will's preparation, reading and thinking.
The most recent of these in May raised the topic of the priority of God - in everything.
While I was not too sure what the evening would hold, I left with much food for thought, having been challenged and encouraged to think further about the supremacy of God.
One point of challenge was regarding the constant tension between God's responsibility and ours. It's a tension that arises as a direct result of humankind's rejection of God as king, and our invariable tendency to want ultimate rule for ourselves, playing up our part and playing down God's place. We were helpfully reminded that God rules and we are accountable to him. What a great reminder to help us (and me) avoid the trap of seeking self-determination in all things!
One point of great encouragement was the reminder that giving God the priority in all things fuels our assurance. That He loved us first, giving His Son for us, frees us from needing to perform or achieve perfection to receive his love. On the contrary we take hold of salvation through faith in Christ. We don't have to feel like our faith needs to be at a certain level before it will be effective - we are not justified because of our faith, but by our faith. This was a great distinction to make and an excellent encouragement.
Given the prominent focus on the individual in our society, I found considering the priority of God a great reality check. Lifting our sights from ourselves, being freed up from constant worry about our performance or achievements, and appreciating the 'God-ness' of God, humbling ourselves and giving Him his rightful place - all these were useful correctives, which have practical application in the way we worship, in the way we witness, in the way we pray and more.
Other than reading a book on these matters, I don't think I would otherwise readily come across such a thought-provoking, challenging and encouraging topic like this. I'm looking forward to the next Christian DNA workshop.
Pip Hood
---
Mothers Day love
Posted by St. John's Highton 12th May, 2014
We celebrated Mothers Day yesterday with some great expressions of love - with a white Chrysanthemum flower given to each woman present (either to receive as a Mum or to give to a Mum), and messages and prayers thanking God for our own mothers, including for those of us who are mothers. The kids shared their own messages of why they thank God for their mums.
I thank God for Mum because...
...she helps me with my problems (like my shoelaces)
...she is wonderful
...she makes me dinners and teaches me table manners.
...she does the dishes.
...she prays for me.
...she got me a Doggie and a rabbit that died last week.
...she takes me to catch the school bus.
...she gives me huggies and she reads with me.
...she loves Jesus and helps me love Him too.
...she brings me to church.
...I love her lasagne!
...she is the best!
---
Life with Christ
Posted by St. John's Highton 12th May, 2014
A new course starting at St. John's - might you or a friend be interested in this?
From the moment of Jesus' resurrection from the grave, he has become the focus of hope for people throughout the world in every age - the hope of new life, the hope of eternal life, the sure and certain hope of finding a lasting relationship with God and his people.
Monday nights from 12th May, 7:30pm to 8:30pm. Our Community Events page has the link to register.
---
Groaning in Hope
Posted by St. John's Highton 12th April, 2014
I had to wait a little over 2 and a ½ hours for something the other day and while I was more or less sorted - I had an excellent book! - there were others in a similar situation who were not so well prepared.
It is regularly commented on, I know, but we are not a culture that finds it easy to wait. We loathe physical queues, we hate being put on hold on the phone. Less trivially, cohabitation and sexual promiscuity are indices of a culture that cannot wait. If we can't have it more or less instantly then we'd rather not have it at all. What we cannot bring into the present we despise, choosing rather to obsess over what we can and do have now.
One of the defining characteristics of Christians is 'hope' (Romans 8:24.) We are those who await (both with patience and eager expectation?) a glorious future. It's not mere optimism; so much has already been played out in Christ. But even the gift of God's Spirit himself is spoken of as a deposit or down payment guaranteeing our inheritance (2 Cor 1:22, 2 Cor 5:5, Eph 1:14).
And yet the experience of 'hope' is still a somewhat tricky business, with all the same temptations facing the believer. Can we really wait with patience? Can we continue like that without losing some of our eager expectation and anticipation? Will we seek to bring the future's blessings into the present? Will we despise what we do not yet have by fixating on what we do?
Watching people who have to wait is a most interesting exercise. There is a noise that emanates from those who are waiting and whose patience is being tried. Trust me, I heard it regularly enough the other day. Every little blow and set-back would occasion a new round of groaning and deep sighing.
Groaning is the sound of hope - see, Romans 8:22-27. In this little section, the apostle Paul says 'creation groans', 'God's people groan', and even 'God's Spirit groans'. Intercession is the language of those who wait in hope - "Our Father in heaven, hallowed be your name, your kingdom come, your will be done, on earth as it is in heaven…".
Of all the indices of genuine hopefulness, this one is supreme - groaning in prayer. How's your hopefulness?
Grace to you all,
Will
---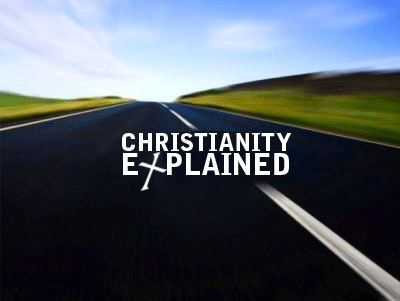 Christianity Explained
Posted by St. John's Highton 14th April, 2014
Christianity Explained is a series of 5 relaxed evenings with a few others explaining the heart of the Christian faith, and what it means to follow Jesus. From the Bible, using Mark's account of Jesus' life, this introduction to Christianity will provide much to consider and perhaps also prompt questions - for which there will be time to ask, or to sit and listen to others.
No assumptions are made about how much (or little) you might know about the Bible or about Jesus. It usually runs for one hour a week over five weeks.You will not be asked to read aloud, pray, sing etc.
The course content has two parts: (1) Learning about Jesus (who he is, what he did, what this means); and (2) Considering our response (the difference grace makes, turning, trusting, travelling).
---
Book by 'Chappo' worth reading on the Christian Life
Posted by St. John's Highton 10th April, 2014
John Chapman served Christ and Australia with distinction because in his 82 years his life's work was to point any and every person to the Lord Jesus Christ, calling on them to repent and trust in our wonderful Saviour. 'Chappo' has gone home to the Lord now, but his books continue to serve us with distinction. Here's one such book that is not only easy to read, but totally worth your time to consider:
Making the most of the rest of your life
"I am 76 years old," [he says in 2007], "and some may think it strange that I am writing about making the most of the rest of our lives. Humanly speaking, I don't have all that much left. The average male lives for 79 years. That doesn't leave me much time.
"On the other hand, if there is life after death, if eternity is really eternity and I have the greater bulk of my life to look forward to, then that makes all the difference.
"If there is life after death, is it possible to make the most of it? Is it possible to prepare for that life, or is it totally a matter of chance? These are the questions I've tried to address in this short book."
Wonderfully, picking up on the resurrection of Jesus, Chappo first takes readers to consider the great curse of death met by the great hope of resurrection. He then goes on to points us to God's promised new creation and goes to some detail outlining how the Bible pictures heaven come to earth: with Christ the king abolishing sin and death and sickness, evil and disaster. This chapter alone repays the effort of reading, as Chappo brings out these truths from Mark's gospel.
Importantly, (and for Chappo invariably) he finishes with the all important question to his readers: Who gets to join God in the new creation? Urging any and every reader to turn back to Christ, and then outlining practically what this might look like and lead to.
Here is a book to warm every believer's heart -with the great hope the gospel brings - of joining Christ in the new creation. Here also is a book, clear, vivid, realistic to life and humorous in an Aussie way, that you could easily read and pass on, or better still read and discuss with a friend, especially a loved one / friend who is not long for this world. I buy copies to pass on to friends.
Chappo went home to the Lord in November 2012. May many others be numbered with him, in the Lord's presence as a result of this book!
In Christ, Mark